There will be at least two info sessions next week to go over all the proposals. We will have the vote to ratify on Thursday, October 22nd. Times and location to be determined.
Your bargaining team and strike captains are available to answer questions outside of the info sessions and copies of the full tentative agreement will be available as soon as possible (give Logan a few days to prepare).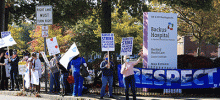 Highlights:
Wages comparable to Windham by year 3
Retro bonus upon ratification
Reduced insurance premiums
Also: monthly staffing committee
PTO: ability to find coverage for primetime vacations even if it results in overtime
Enhanced incentive program that includes per diems
We all worked hard for this and it paid off! Our solidarity got us here. We should all be proud!